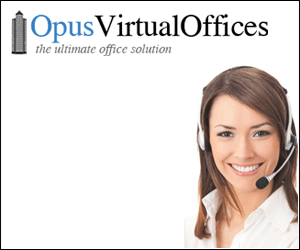 Startups need assistance to get ahead and fortunately there are providers out there, who will do just that.  Finding business funding and offering services, which will assist new businesses in their growth is what Prodsllc.com can do.  New businesses can now have the all the benefits of operating from an office, without the costs of actually operating from an office.  Prodsllc.com has partnered with Opus Virtual Offices, in order to provide Startup companies with the some of the best business and virtual office services around.
With it's over 400 locations in 42 states, Opus Virtual Offices is able to provide local business numbers and business addresses to start ups across the country.  Live, professional, reception service comes along with the number, as well as the transferred call being directed to all of the lines set in place by the start up.  Whether mobile, land line or on site, a business owner will not have to miss that all important business call.  If the call cannot be taken at that moment, it will be transferred to a personal, voice mail box.  Thanks to the dedicated team at  Prodsllc.com, tapping into this affordable, quality solution for small companies to have a foothold in the corporate world, is easily within reach of most any start up.  The available business funding options can make the process of business and virtual office services can be more accessible than ever before.
The business address also comes with business mail services.  The staff at the virtual office will collect mail and place it in a personal mailbox, which the business owner can open with a key.  A local fax number is a part of this service and all voice mail and faxes are converted to email.  For a low, monthly fee a small business can have the corporate presence it needs.  There is no need to struggle with renting an office space or all of the furniture and equipment needed to run it.  A local address, which takes in and gives access to all mail sent to it and a local business number, with live receptionist service is what most startups need, in order to grow.  Business funding through a business services provider can help any small business be able to take those steps to get ahead.
Many people feel more confident conducting business with a company, which has a corporate air about it.  There are business and virtual office services, which are available to give startups the ability to appear as and run like a well-oiled, corporation, through the incoming correspondence aspect of the business.  By going through Prodsllc.com, a startup can cut down on the online research time involved in finding effective, business service solutions.  A virtual office solution, business funding and more can be found with the assistance of those who are on a mission to help startups grow up.  Any small business can take steps to promote its expansion, today.